Part 1
After 5 months travelling in 5 countries, I took a break for a couple of weeks at my mum's in Brittany. Idyllic location, it's the real revitalisation! After indulging myself in delicious pastries in Porto I came back to a healthier way of living and got back in track  with a daily dose of yoga. In those ideal confitions, an idea grew wild in my mind which came to life through this blog, a way to meet other and myself.
After a plan with a friend was cancelled I could have stayed quietly in my little Breton heaven all summer long but I decided instead to start a 4000 kilometre journey hitchhiking in Europe instead, going through France, Italy, Spain and arrive to my final destination: Porto in Portugal where I'll be painting a mural at Anna's.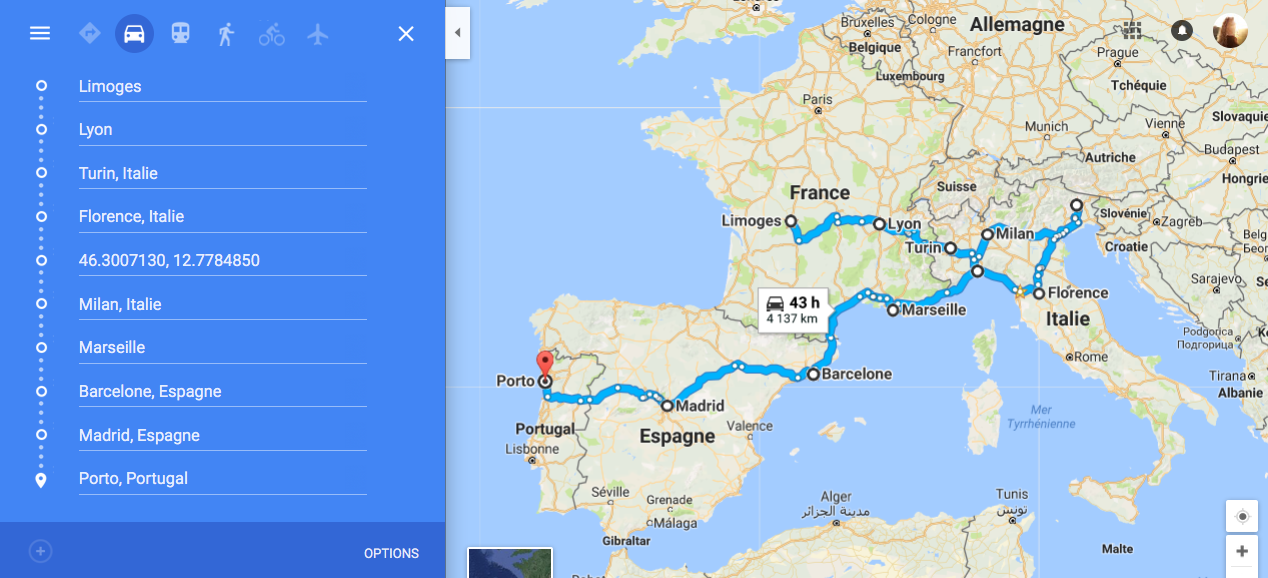 Here are my goals:
 take this trip like a social experiment: is it possible to hitchhick nowdays, especially when you are a solo female traveller  ( safety, waiting time, financial budget etc …)?
to live a crazy human adventure
discover my first Rainbow gathering
share it with you
a great opportunity to visit some friends and make new ones along the way (my sister in Lyon, Valerio and Slim in Florence, Alessandra and Chitti in Barcelone)
Let's get started!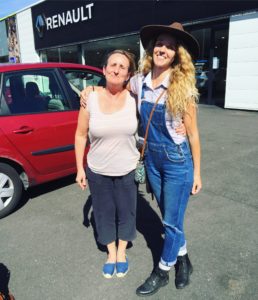 My mum and her companion are going to Limoges on the 27th, I tag along for the ride. My trip really starts on the 28th at noon when Philippe is the first to take me on the hightway, after my mum had dropped me to the nearest car park (I never hide anything from her, I prefer it that way). Philippe, who is going south towards Toulouse, puts me right on track, I'm apparently not exactly where I should be. Fancy far, confortable, my host is super nice, my journey takes a good start. From where he dropps me I have to join the A89 and in order to do that I need to walk along the hightway, with my heavy bag it's not the safest thing to do. It's on this road the Jean-Luc picks me up but he's not going further than Clermont Ferrand, I will have to find a third ride!
It's going to be Hélène, who will bring me until my final destination of the day. My campany awakens in her dormant wanderlust. She's a sweetheart, she'll come out of the hightway to leave me in front of Renault where my sister will come and look for me. I'll stay two and halp days with her, while the road, always loyal will wait for me quietly. I hadn't see my little family from teh south so it take this opportunity to immortalize my niece who is growing to be a gorgeous young teenager.
After a little selfie, the 31rst my sister dropps me near a road toll  and here I meet Maxime. He generously goes out his way to put me (again) on the right track and we found ourself stuck in traffic. It's the occasion to get to know each other a little better even though we only drive 30 kilometres together. We talk about our futur plans and as I mention a donkey ( it's promise I'll tell you all about it another time) he breaks out laughing.  He personnaly lived in Cambodia selling wine and dreams now of a trip in Chile where he could enjoy one of his passions: paragliding!
I end up with Yoan (Yop for his close friends) who is eating his lunch where Maxime left me. It's a first, I will now experience the road in a merchandise truck! Yoan tells me he's fixing up a van and plans to explore the world with it one day. I can't help it but notice the common denominator of my drivers: tey all have dreams of wanderlust. I am in motion, they are too, and this mouvement founds its roots in their yearning, their project ahead of them. My presence by the side of the road must evoke this principle of peregrination that they all long for in the close or distant futur. Once again, the observation is interesting, it's about empathy. It's about this shared vision of a way of life that pushes the one driving to stop for the one that is in a temporary stationary motion. Two path that might have not met otherwise.
Small tricks and advices
It's important to be aware that the hitchhiker's graal is the road toll. It's strategically the best option, most of the time there are toilets, vehicle slow down to pay the toll and there is enough space for them to park.

Those conditions are more propitious than anywhere else. Let's not forget about your sign! It's visual, it gives you something else to carry than your thumb and it will indicate the location you are aiming for. I personnaly choose the board I had at scholl which you can infinitly erase with a special pen.
And just in case you wonder, I'm in touch on a regular basis with my best friend Jojo, my sister and ma mother ( even though it's more sparadic with her ) and I touch base with the people that hosts me along the way.
Until now I have not waited more than 15 minutes but those minutes always felt like they would never end, I always feel kind of stupid holding my sign up until someone finally decide to stop. I often get the feeling that I could stay there all day long, as stiff as an Italian statue covered with bird shit. I could almost count car like sheeps. My true secret is that I pratice postive thinking, let say that I try my best to keep my faith in all circumtances and hitchhiking is an instant full-scale test.  On the side of the road let's be clear you are pretty exposed. Not only to the looks btu also to judgements. You might not hear them but drivers stare at you, but after all they are in their right, what is unusual is a curiosity and human nature is very curious. Someome that waits with a sign attracts attention. Some people may beep they horn, slow down…and I can tell that some of them would stop if my direction was their own. Let's be honest there, being a girl is an advantage, while a man waits hours and hours a girl won't. If i was them I'm not sur I would have such patience.
When Camille stops his brand shiny new truck it's the jackpot because he goes until Turin. The most surprising is that he met his house 26 years ago while she was hitchhiking with a girlfriend in a pretrol station where he had stopped. Such an unbelievable story! A year later they were living together and had their first born child.
Ma second day of hitchhiking would have had been truly epic! 10 km before Turin Camille has to stop, it's the law and it's very strict, when you are working as a driver you cannot drive more than 9 jours staight (if i remenber correctly) and take a few breaks in between. This is it, Camille has to stop for 45 minutes, when it's time it's time! You cannot drive 1 minute more. It's rather early  so I feel like pushing my luck to see my 8 years old friend Valerio in Florence. I take my sign out again. A strange guy pulls over, he doesn't seem so sure of where he is going…I say thank you but no thanks. Let me tell you one thing, while hitchhiking you have to know when you don't feel like saying yes. Don't be polit in that way.
Rule number 1 of hitchhiking: follow your instinct!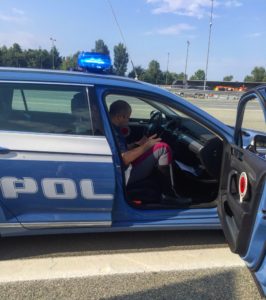 A few minutes later a police car comes up and tells me: it's illigal to hitchhike in the highway in Italy. And they feel like telling me that it's dangerous as well. Oops! Illegal I didn't know that! They ask for my ID, Camille comes to my rescue, he had seen the all scene from his truck, they ask for his papers as well, fortunately he doesn't have to pay a fine, it was close, otherwise I would have felt guilty. A few minutes later I found myself in the back of the police car and dropped off at the nearest bus station.
There was not only one, but two signs that hitchhiking was over for today. I was going to spend the night in turin
The next day: Florence…hitchhiking of course!
——- The small photos are taken with an iphone 6, the others with my Canon 5D, you can slide the gallery on top of this post to see all the photos ——
---